In the Printers screen, you can configure the settings of each printer used by the location.
To access the Printers screen, log into the Admin Console, select an appropriate account and location. In the Admin Console's Main Menu, click Location Setup, then click Printers. In the Printers screen, click New to create a new printer.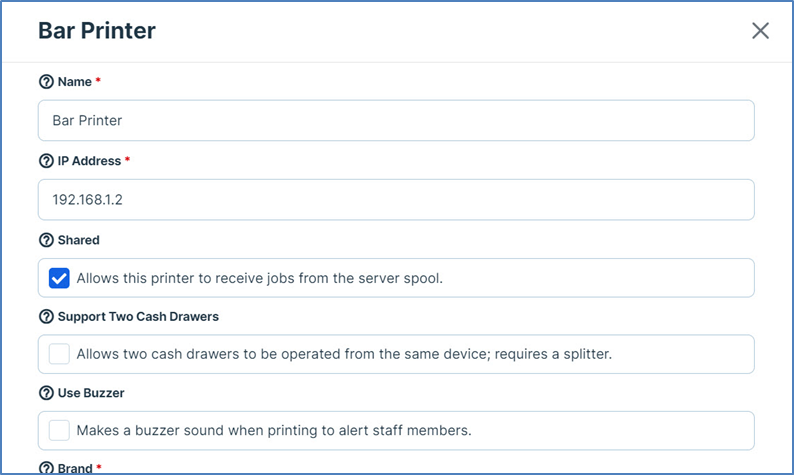 Name: In this box, enter a descriptive name for the printer.
IP Address: Enter the terminal's IP address.
Shared: If you want this printer to receive and print jobs from multiple workstations, select this check box. The printer will receive jobs the server spool.
Support Two Cash Drawers: If the printer includes a splitter and you want to connect it to two cash drawers, select this check box. This setting enables the printer to run two cash drawers simultaneously for a single device. 
Use Buzzer: If you select this check box, the printer will run a buzzer sound to alert staff members that it has received a print job.
Brand: In this list, select the brand of the printer you are configuring (Star, Epson, or Toshiba).
Line Display: If the model features a USB connection and you wish to connect it to a line display device, select the type of line display device in this list.
Support Weigh Scale: If the printer is capable of communicating with a CAS PD-II weigh scale, you can set it to do so by selecting this check box.
Mode: If you care configuring an Epson label printer, you can set its cutting mode in this list. If you select Cut, the printer will automatically cut new labels after printing them. If you select Tear or Peel, the printer will not cut new labels after printing them.