To request a background check for a new candidate,  select the job in question, navigate to the job details and select the candidate in question and either select the Background Checks  from the menu .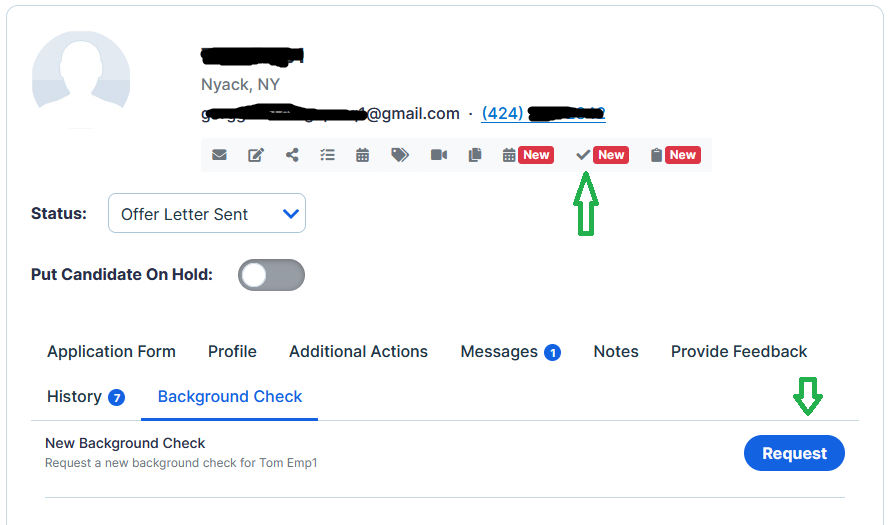 Alternately, you may select the  Background Checks tab and under  "New Background Check" select the Request button. 
This will immediately connect to our partner, Checkr, who will be processing the background check.
Account Not Connected to Checkr
If your account is not currently connected to Checkr, this will bring up the following modal window:
Select the Get Started button at the bottom of the modal. 
This will initiate the integration process. On the screen that appears, it will prompt you to connect to a Checkr account.  Select Connect.
You will then be brought to the Checkr website, where you can set up a new account with Checkr.
If you are a first time user, select Set up a Checkr account.  If you already have an account, select the Sign in link. 
Signing in will bring you to the below screen.   Select Sign in with Checkr.
Next you will need to connect your account:
If your account successfully connects you will see the following message.
Once the account is successfully connected you will see the following message on the Integrations tab.   Note that your account will show "Awaiting Credentialing."  This will typically take a few business days to complete the process.
Connected Account
Once your account is connected and has gone through the credentialing process, you will see the following screen under the Integrations tab.
To proceed in running a background check on a new candidate, go back to the Jobs page, select the candidate, and select the background check checkmark again. 
You will then  be prompted to invite the candidate to the background check process.  Fill out the form, providing at least the state of the candidate, the package, and the candidate's email address.
An email will automatically be sent to the candidate requesting that they begin the background check.
When the candidate selects Start background check, they will be prompted to fill in a few details on the Checkr website. 
Reporting
Once a candidate has been invited into the process, you will see background checks available back on the Jobs page for this person.   Select the Background check tab.
You will see the text "Invitation sent" next to each report. 
Selecting View Candidate will show you the status of this person's reports on the Checkr website.