Employees → Employee Quick Hire → State/City Income Tax (Residence)
Geocode*: Populates when the Zip Code and Work Locations have been designated. Verify that a code is visible. Complete the remaining fields for taxes.
Do not edit the Geocode field unless prior authorization has been discussed with your Payroll Support Team.
The sixth collapsible section is related to State/City Income Tax.
Complete the employee's state tax filing information as it is on their State Withholding Form. These forms vary per state and can be found online on the state's official website. Resident Location will automatically populate based on the employee's Zip Code in the General section.
Below is an example of an employee withholding form from Nebraska.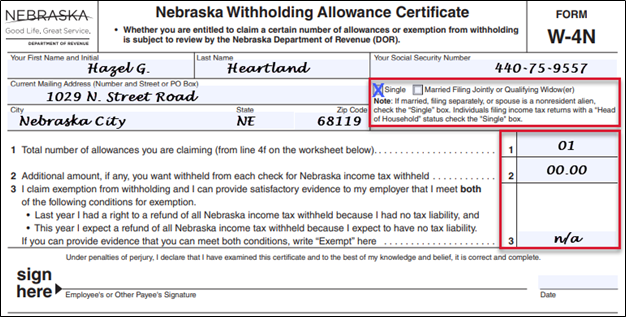 (Continue in Additional Quick Hire Fields)