This section includes the guest's basic contact information, such as name, address, telephone numbers, and email address.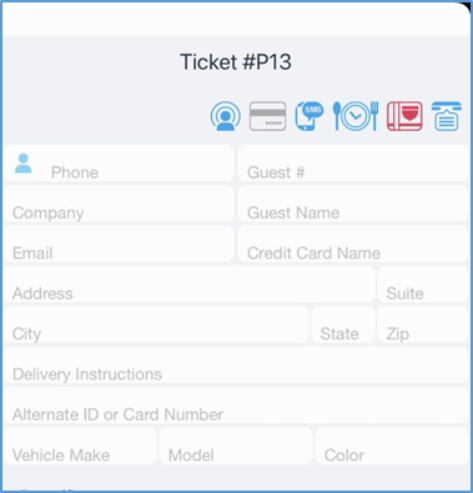 This section also includes a series of icons along the top of the screen, each representing a utility or a different type of information associated with the guest. To review each icon's information or run its utility, tap its icon.

Guests in Range: This icon displays as a "pulse" animation when customers are within range while using the Guest app. If you tap this icon, the POS displays a list of customers within range, with each customer's name and phone number. If you select a customer in the list, the POS will add the customer's information to the Ticket Info screen.

Credit Card Tab: This icon is only active if the Credit Card Tabs feature is enabled for this location. It allows you to create a credit card tab, enabling a customer to authorize a card just once instead of each time they place additional orders. If you tap this icon, the POS will ping the PAX device to prompt the customer to insert or swipe a credit card. Once the card is read and authorized, the POS will store the card's information to use later without requiring the customer to swipe their card again.

SMS: If you tap this icon, the POS will send an "Order Ready" text message to the guest's telephone number. If there is no telephone number, the POS will prompt you to enter a number in the Phone box.

Order History: If you tap this icon, the POS will display a panel listing the guest's order history at this location.

Geocode: This feature is usually used for delivery service. If you tap this icon, the POS displays a map to the customer's address, with detailed directions for how to get there. You can print a copy of the directions with the receipt printer.

Caller ID: This icon aids staff in receiving phoned orders and adding customer information to new tickets. When staff members receive a call, they can select a room and open a new ticket. Then, while in the Ticket Info screen, the animated Caller ID icon may "jiggle", indicating they are receiving a call on one or more other lines.
If you tap this icon, the POS will display the phone number and (if available from a previous order) the customer's name associated with the number. The POS will also add the phone number and name to the new ticket's information. If the phone number also has a street address associated with it, the POS will also add it to the ticket information.